10 Things You Need to Know:
1.  Fundraising Selections 
For our fundraisers, we have pre-selected to offer to you, our most popular soap bars +  lather loofahs +  bath bombs &  Body Butters.  The soap bars are offered as individual bars or as pre-arranged trio's for easy suggestive ordering.  We give back 36% per soap bar, bath bomb, & body butter sold, and 38% per lather loofah purchased during your fundraiser dates (for fundraisers done by order forms or online orders).  This translates to $2.50/soap, $4.00/body butter, $2.00/bath bomb, & $1.50/lather loofah sold.  What are you going to do when the fundraiser is over and you need more of our soap?  That's simple - check us out at ExpeditionSoaps.com to see additional product choices. To see company reviews, click here!

2.  Order Delivery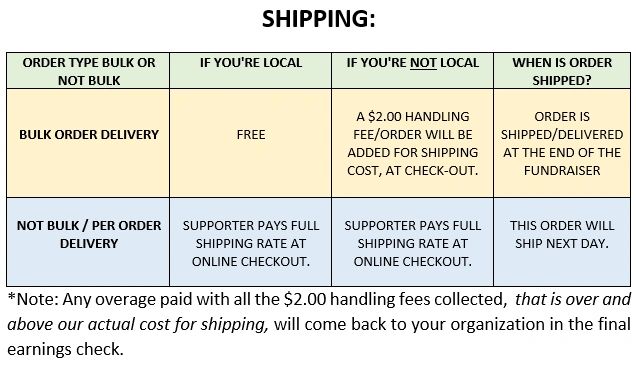 3.  Are You a Perfectionist?

We are!  But even in our quest to make the perfect bar of soap for you, our handmade, cold processed artisan soaps inherently can have small blemishes or dings as a result of the soap making process. So, we do not ever guarantee a perfectly smooth sided 3" x 3" x 1" bar. Likewise, the bar size and weight will slightly vary, and is approximate on the label, stating ~5oz.  We aim for a minimum weight of 4.7oz and typically our bars are over 5oz.  Lastly, sometimes when our soap batches are prepared, although the ingredients are the exact same as shown here, the colors and/or styling can slightly vary.  This is the way it goes when soap is prepared by hand, in small batches!  
4.  Don't LYE about it

You can't make soap without lye.  Nobody can!  Lye is required for a chemical reaction with oil to occur that results in soap and glycerin. Our lye comes from slaked lime.  It is commonly used in many applications, including food preparation, because of its low toxicity. We use this lye for consistency in our recipes.  It begins as limestone, heated to a high temp, then water is added.  A paste results, and then is dried, which is lye.  You cannot make soap without lye!  All REAL soap is made with lye.  But there is no lye in our final soap product that you use!  See, once the process of saponification (the chemical reaction of soap making) is complete, the lye and oil molecules combine and chemically change into soap and glycerin. This is true of every soap ever made! So, we use lye to make soap, but then it completely chemically changes into good by-products of soap and glycerin.
It's common NOT to see the word lye listed as an ingredient on commercial "soap" bars.  They've gotten good at hiding it!  But, remember, all soap is made with lye, so it's nothing new and nothing to freak out about!  If your soap contains ingredients such as saponified oils, sodium cocoate, sodium palmate, sodium palm kernelate, sodium tallowate, sodium olivate - guess what? These are the names for mixtures of different oils with - you guessed it, lye (sodium hydroxide)!
One of the biggest differences between our soap and commercial "soap", is that we leave all the skin valuable glycerin in our soaps.  Commercial chemical soap companies extract the glycerin and put it into more expensive skin care products, and then use less expensive chemicals to fill that void. Talk about getting scammed!  If you've ever gotten itchy from using soap, it's most likely because the glycerin was removed from that "soap", and the substitute chemicals irritated you.  Glycerin is stripped out of commercial soaps since it's valuable. It's then sold to be used in more expensive cosmetics or sold to fertilizer or explosives companies (which they use to make nitroglycerin).  If you look at a soap bottle and it indicates that it has glycerin as an ingredient, then be aware!  This typically means that the glycerin that occurred naturally was removed and just a tiny amount was added back in.  Usually, this isn't even enough to moisturize your skin well enough.  This can also be true for you if you've ever had fragrance sensitivities.  It may not be the fragrance at all that's irritating you, but the lack of glycerin.  
This isn't the only difference, as you can see all the rest of the ingredients in our soaps come from plants or the earth, where your commercial "soap" ingredients are a further slurry of chemicals.  As far as soap goes, you get what you pay for!  And in the end, think about the resulting gentle and natural skin benefits from using our soap daily vs rubbing unhealthy chemicals into your skin daily.  You can see and feel the difference in the daily use of all products! 

5.  Shea Butter  (Pronounced Sh-A)
Did you know that Shea Butter comes from a nut on the Shea tree?  The Shea tree only grows in the central area of Africa, in what's known as the Shea Belt in Africa.
The Shea tree can grow as tall as 50 feet in 40-50 years time.  Therefore, the mature tree nuts that are used to make Shea Butter are very precious and are a highly valued commodity.  Additionally, due to the much civil unrest in these areas of Africa, also makes it difficult for just any company to show up to pick their own Shea nuts!  So, to get the highest quality Shea Butter that we use, we feel really lucky!
Our soaps contain 100% organic premium Grade-A pure and natural Shea Butter.  And, mind you, not all Shea Butters are created equal, as there are several grades below Grade-A!  The Shea Butter used in our soaps is Fair Trade.  Using our Shea Butter based soaps daily can help your skin feel well moisturized and clean. 
So, why is Shea Butter so amazing?  Shea is a gift from nature known as "the Skin's Best Friend" and the "Tree of Life".  This is because Shea Butter is chocked full of skin-loving all-natural vitamins A and E.  Shea Butter is different from other nut oils because of its exceptional amount of healing properties.  No other nut oils compare to Shea because of these awesome properties!
The vitamins A & E found in Shea Butter are beneficial for improving many skin issues including acne, wrinkles, eczema, and dermatitis.  But, even more amazing, it that Shea Butter has healing properties.  The premium Grade A Shea Butter (found in our soaps) has properties to treat skin allergies, insect bites, sunburns, frostbites, and more.
Shea Butter has amazing moisturizing and healing properties and it has been found that our skin glands produce these same properties as found in the Shea nut.  When Shea Butter (top Grade A only) is rubbed into your skin, biochemical and physiological effects occur because of how similar it is to what our skin glands make naturally, and Shea Butter has thereby been indicated by users to heal skin injuries and promote wound healing.
6.  Essential Oil Blends
The essential oil blends used in our soaps are extracted from plant sources, including flowers, herbs, spices, and woods, to create a delicate aroma blend for many uses.   Each blend can yield a specific beneficial effect, such as for relaxation. On our labeling, we write fragrance.  Some are essential oils, some are phthalate-free fragrances, but both ultimately fall under the category fragrance.  Here's a massive guide with everything you need to know about essential oils Organic Daily Post's Ultimate Guide to Essential Oils  (shared with permission).

7.  Fragrance Oils
The fragrance oils used in our products are of the highest quality made, which are 100% cosmetic grade oils. These oils contain No Glycol (DPG), Alcohol, nor phthalates or other cheap diluents. These oils are skin safe & tested under strict FDA guidelines (hence cosmetic grade), making them perfect for scenting our products. No additional or artificial coloring has been added to our fragrances. These oils should yield a long-lasting aroma with clear bold notes.  Our fragrances are not tested on animals.  For more info, click on this link:  https://www.fda.gov/cosmetics/cosmetic-ingredients/fragrances-cosmetics 

8.  Colorants
The colorants used in our products are 100% FD&C cosmetic grade "exempt" water-soluble colorants.  Cosmetic grade colorants are tested under strict guidelines by the FDA and are preferred in & traditionally used in handmade cold processed soaps like ours.  Very little color is needed to go a long way in our soaps.  On average, 1 oz of color will cover 8-25 lbs. of soap!  That's a whole lot of soap and a little colorant!  
We use "exempt" color additives.   "Exempt" colors include pigments from natural sources such as vegetables, minerals. Examples include annatto extract (yellow), dehydrated beets (bluish-red to brown), caramel (yellow to tan), beta-carotene (yellow to orange) and grape skin extract (red, green). Although exempt color additives are not subject to batch certification requirements, they are still color additives and the FDA must approve them before they can be used in foods.   For more info, click on this link:  https://www.fda.gov/food/food-additives-petitions/color-additives-questions-and-answers-consumers
9.  Biodegradable * Green * Earth-Friendly * Environmentally Safe * Ecological * Non-Toxic 
Call it what you want, but our soap artisans have confirmed that all of our bars are biodegradable.  This means that our bars are perfect to take along for hiking and camping.  Our sleeves are recyclable, and the outer plastic shrink wrap should be left at home before you go!  So, grab a few of our bars and be on your way!  Also, our lotions and Body Butters are also environmentally safe.  These come in a plastic container, which is recyclable.
10.  We Care About Your Shopping Experience & We Appreciate You Reading This
We care about your shopping experience from beginning to end.  Please contact us if you have suggestions to make your experience even better. We appreciate you stopping by to check us out! We ask if you could share our soaps and website with your friends, and if you find that you love them as much as we do, please leave a review on our website, should you be really satisfied.  Firefox and Chrome Browsers work best for leaving a review!  Also, after the fundraiser is over, you can buy more soaps at ExpeditionSoaps.com.  Make sure you're signed up for The Expedition Club (free), so you get e-mail exclusive coupons & company updates.
Thank you so much!
Be sure to read more in our section called, "Why Buy Our Soaps?"