A6 - Men's Favorites #2
Most men are simple!  Just give them whatever soap and they'll use it.  However, if you give them our soap, they'll love it!  Our men's soap is free of harsh, drying chemicals and full of skin-loving vegan oils and organic Shea Butter.  What this means is, if your guy has been using traditional, store-bought chemical soap, they're going to really notice a positive difference on their skin!  Not only that, but our men's soap smells so fresh and clean that women will dig you from your smell (hard to pull off, I know).  With our creamy, dreamy lather, men like to shave with our soap lather too!
Expedition Soaps Gives Back $7.50/ trio sold! 

 
Here is a description of each of these great scented soap bars: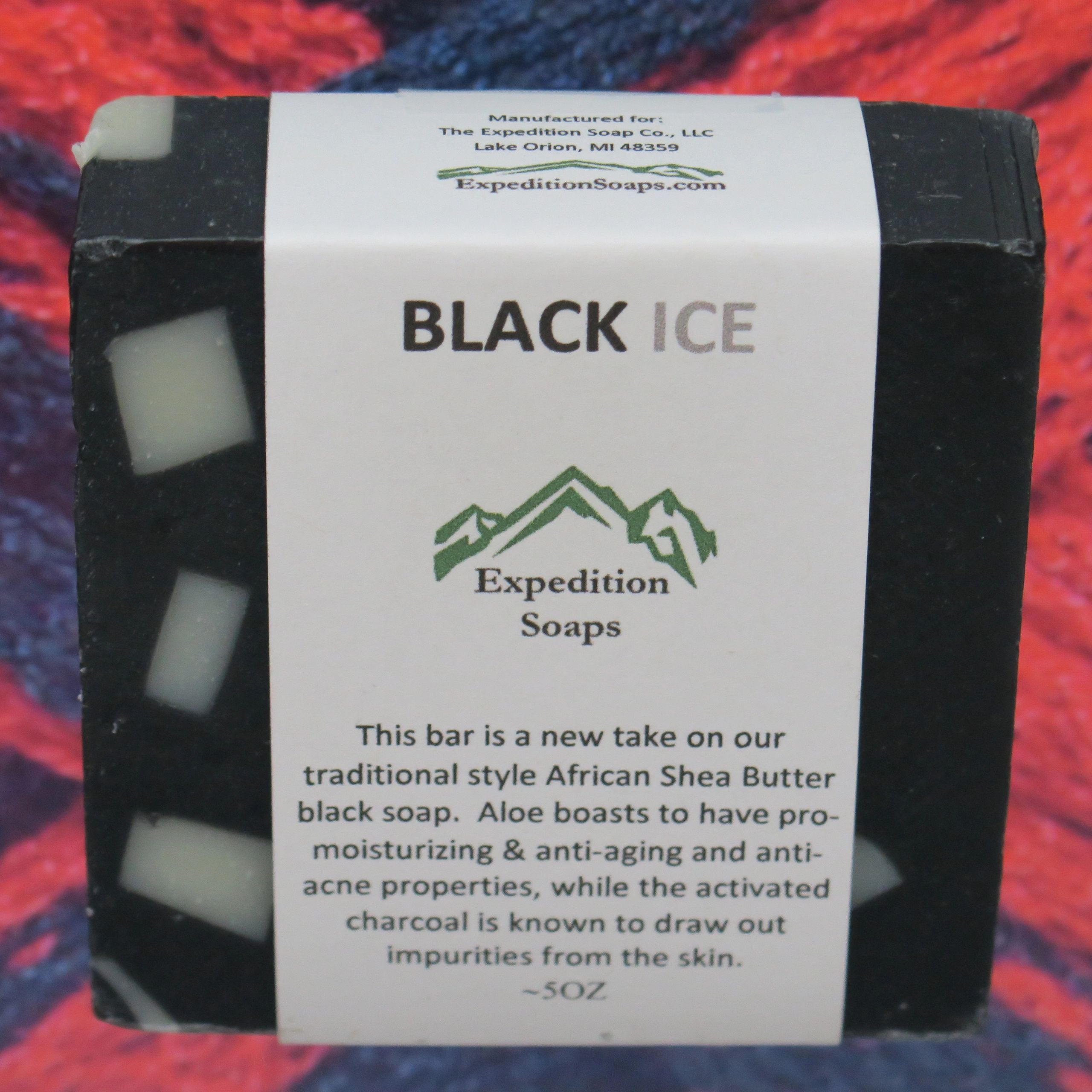 Black Ice
Black Soap is one of our top selling soap bars, and you may be wondering: How do you improve a top seller? Well, we took it one step further with... aloe! This bar is black because it's full of activated charcoal! This bar has chunks of aloe added [aka the "ice" part of our name]!  With an almost magical combination of this traditional African-style organic Shea Butter soap, plus the added activated charcoal and aloe, it's a luxury bar that will lather nicely while deeply cleansing your skin.  The activated charcoal will do its magic detoxifying your skin and the aloe will do its magic with extra moisturization and fighting acne and aging. It makes for a great combination that's known to help with all skin types, even the more troubling types.  This bar is for men and women with a scent that leans just a tad on the manly side.  You'll smell clean and fresh after your shower and your skin will feel clean and fresh!
Ingredients: Saponified oils of Olives, Coconuts, Soybeans, Corn, & Sunflowers; Organic Shea Butter, Water, Activated Charcoal Aloe, and Phthalate-Free Fragrance Oils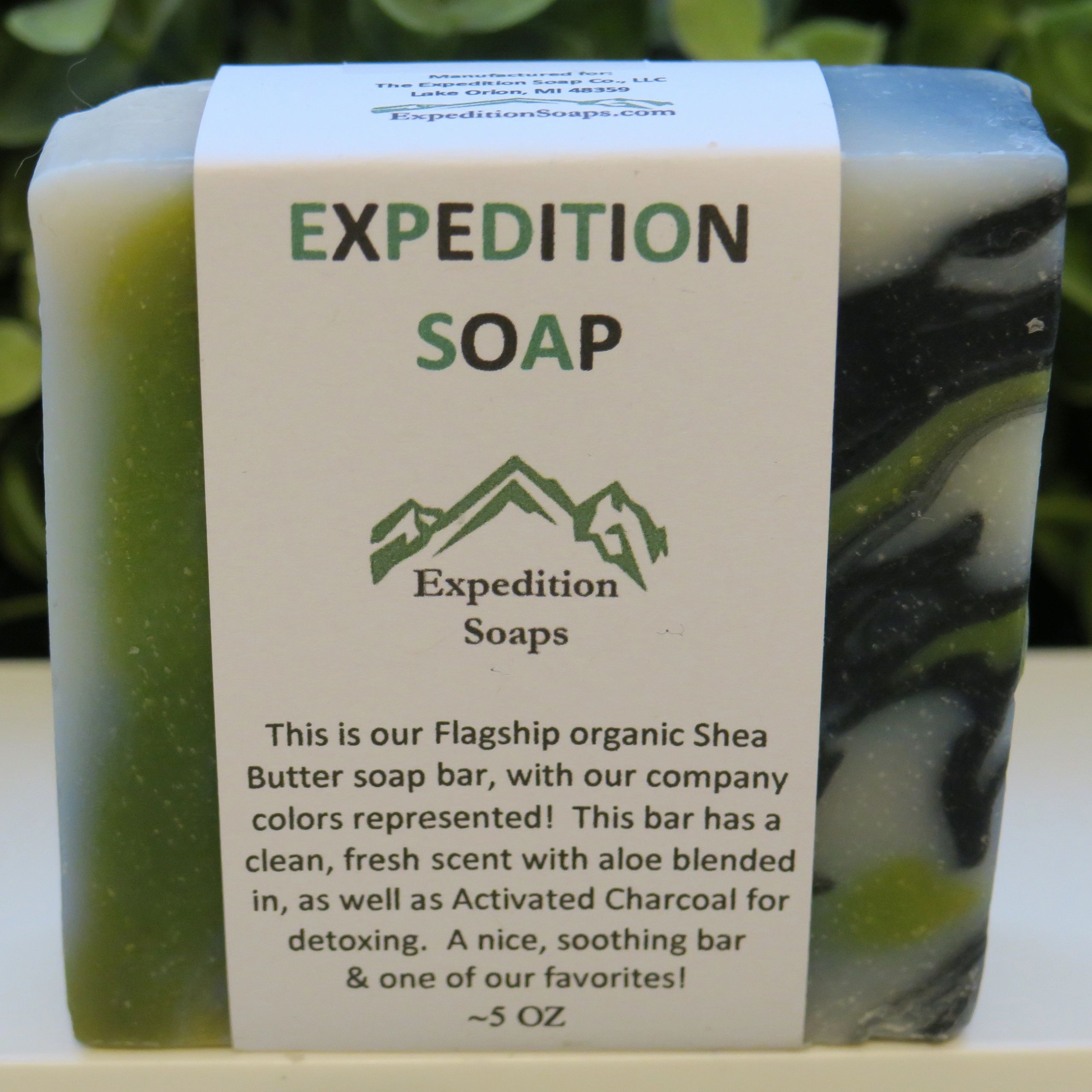 Expedition Soap
You're looking at our Flagship Product, bearing our company name and colors!  We just love this bar because it's packed with skin loving treats!  It has a fresh, airy, outdoorsy scent, just like you'd find when you're out on an expedition!  This Shea Butter soap bar has aloe hints added in, too - which is a treat for your skin!  Aloe has many known skin loving benefits, such as moisturizing skin without making it oily.  
Activated charcoal is known to act like a magnet to attract and absorb dirt and oil. When dirt and oil in your pores come in contact with the carbon, they stick to it and then get washed away when you rinse.  So, this bar is great for people with all kinds of skin types that want a deep cleaning, along with those people with oily skin types.
Ingredients:  Saponified oils of Olives, Coconuts, Soybeans, Corn, & Sunflowers; Organic Shea Butter, Water, Activated Charcoal, Phthalate-Free Fragrance Oils, colorant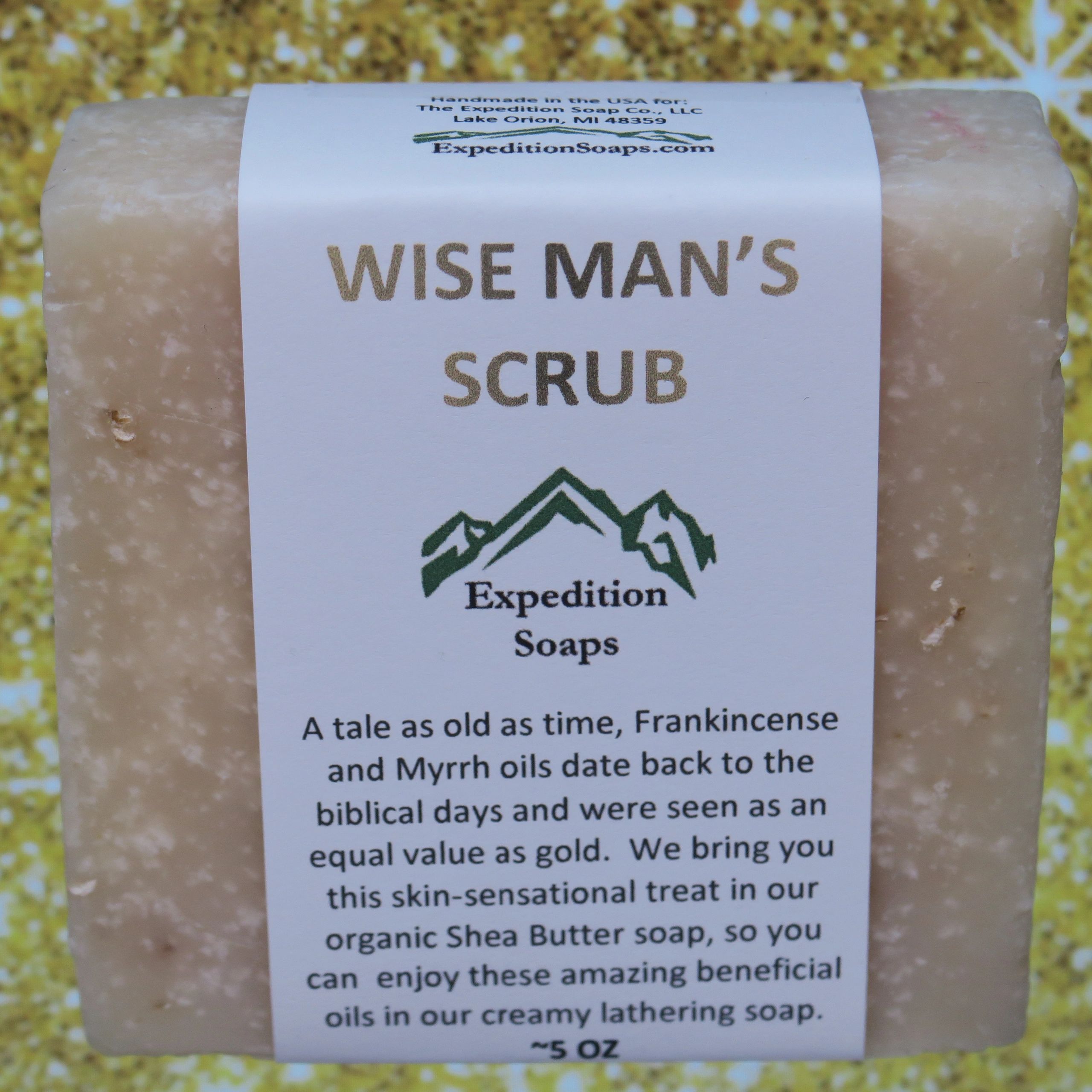 Wise Man's Scrub
There is no story in the world as famous and legendary as the Three Wise Men visiting baby Jesus. Braving cruel kings and inhospitable deserts, they traveled from far corners of the world to pay homage to Christ, bringing the gifts of gold, frankincense, and myrrh (It may seem weird bringing spices along with gold, but during this era, these spices were worth their weight in gold!). We decided to combine the two amazing spices into a beautiful, relaxing skin-loving soap! It also contains sea salt and ground oatmeal, to exfoliate and leave your skin feeling blessed.
Ingredients:  Saponified oils of Olives, Coconuts, Soybeans, Corn, & Sunflowers; Organic Shea Butter, Water, Sea Salt, essential oils
Keep in Mind: Our Soaps Make Great Gifts!
each bar weight: approx. 5 oz bar 

each bar size: 3" x 3" x 1" approx. square